Lidsjövägen 1
3335 32 Gnosjö
Tel 0370-332360
Fax 0370-332369
www.gnosjomaskin.se
info@gnosjomaskin.se
Hardness tester Alpha Sematic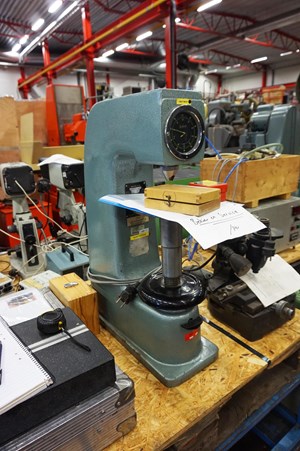 Article Code 65A-00092
Print
| | | | |
| --- | --- | --- | --- |
| Maker | Alpha (SPV) | Weight | |
| Model | 2500 (Alpha Sematic) | Size | |
| Ser. No | 15370 | Condition | 5/10 |
| Year | | Delivery Code | |
Specification
User friendly and robust hardness tester for measurement according to Rockwell, Vickers and Brinell methods. Built-in weight system with weight selector for nine different loads (20-250 kg). Adjustable load time up to 30 Sec.
Is in good condition but is in need of service as it does not seem to work properly.

Loading weight: 20-30-60-62,5-100-120-150-187,5 och 250 kg
Gap height: 0-260 mm
Gap deep: 150 mm
Denna info är upprättad efter bästa förmåga - men är inte bindande i detalj. Samtliga priser är exklusive moms med reservation för pris-/valutaförändringar.