Lidsjövägen 1
3335 32 Gnosjö
Tel 0370-332360
Fax 0370-332369
www.gnosjomaskin.se
info@gnosjomaskin.se
Extractor arm Plymoth Flexi Major 2 m incl. wallbracket.
Without VAT:
Contact us
In Stock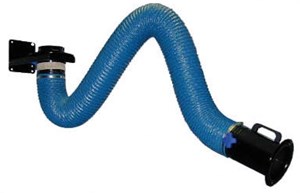 Article Code P-007
Print
| | | | |
| --- | --- | --- | --- |
| Maker | Plymoth | Weight | |
| Model | Flexi Major 160 (2M) | Size | |
| Ser. No | | Condition | 10/10 |
| Year | | Delivery Code | |
Specification
Flexi Major is a modern and flexible extractor arm. The design is compact and smooth. Specially made for smoke, dust and gases.
Modern parallelogram technology is the secret that make it incredibly easy to move and retains its position. The extractor hood can be angled more than 110° in all directions. Lamp cartridge can easily be fitted to the hood (extra equipment). It has a long strong steel hood to withstand sparks, chemicals and heat. The flat shape around the inlet of the hood gives a directional suction effect,
which optimizes the suction power. All parts are laser cut for maximum precision.
Flexi Major is a high quality extractor arm.

Arm length: 2 meter
Suction hose Ø: 160 mm
Denna info är upprättad efter bästa förmåga - men är inte bindande i detalj. Samtliga priser är exklusive moms med reservation för pris-/valutaförändringar.