Lidsjövägen 1
3335 32 Gnosjö
Tel 0370-332360
Fax 0370-332369
www.gnosjomaskin.se
info@gnosjomaskin.se
Tool grinder (cutter grinder) Deckel SO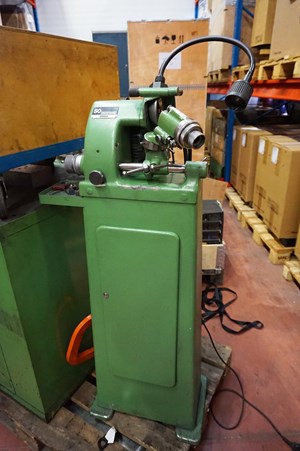 Article Code 01G-00632
Print
| | | | |
| --- | --- | --- | --- |
| Maker | Deckel | Weight | 70 kg |
| Model | SO | Size | |
| Ser. No | 84-22313 | Condition | 7/10 |
| Year | | Delivery Code | |
Tool accessories
Diamond wheels
lamp
floor stand ande more..
Specification
A machine for toolmakers daily grinding tasks for eg. grinding of punches, lathe and stick steels, center tips, electrodes, spiral drills and much more..

Motor power: 0,25 kW
Motor speed: 2800 rpm
Spindle speed: 4500 rpm
Hole through collet: 17,5 mm
Max grinding radius: 10 mm
Max clearance angle: 45°
No of dividings: 12 pcs
Denna info är upprättad efter bästa förmåga - men är inte bindande i detalj. Samtliga priser är exklusive moms med reservation för pris-/valutaförändringar.