Lidsjövägen 1
3335 32 Gnosjö
Tel 0370-332360
Fax 0370-332369
www.gnosjomaskin.se
info@gnosjomaskin.se
MIG/MAG Welder Telwin Electromig 230 Wave
Without VAT:
19363
In Stock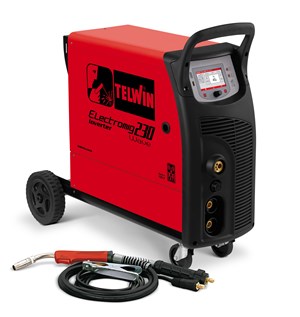 Article Code TW816060
Print
| | | | |
| --- | --- | --- | --- |
| Maker | Telwin | Weight | 32 kg |
| Model | Electromig 230 Wave | Size | 0,8 x 0,38 x 0,73 m |
| Ser. No | | Condition | 10/10 |
| Year | | Delivery Code | |
Tool accessories
Complete with MIG-MAG torch (3 m)
cable and earth clamp.
Specification
The WAVE OS system makes welding operations customisable to suit customer-specific requirements and also traceable and
analysable, by saving data via USB. The SYNERGIC function simplify the settings of welding parameters. Maximum operational flexibility for use in a wide variety of application sectors, from maintenance to installation and interventions at body shops. It is possible to operate on different welded materials (steel, stainless steel, aluminium), brazed materials (galvanised and zinc-plated sheet metal) with specific welding processes having low thermal transfer, ROOT-MIG and ATC, and specific processes for aluminium and brazed materials AB PULSE and AB PoP. The intelligent and automatic control of the arc, instant by instant, will maintain high levels of welding in all working conditions, with different materials and/or gases. Complete with VRD device. Supplied with various stored welding
programmes, it offers the possibility also to store, trace and export more customised programmes.

Main voltage: 3-phase 400V
Current range: 10-240 A
Current at 20%: 200 A
Current at 60%: 105 A
Main fuse: 10 A
Welding wire ST/SS/ALU: 0,6-1/0,8-1/0,8-1 mm
Denna info är upprättad efter bästa förmåga - men är inte bindande i detalj. Samtliga priser är exklusive moms med reservation för pris-/valutaförändringar.