Lidsjövägen 1
3335 32 Gnosjö
Tel 0370-332360
Fax 0370-332369
www.gnosjomaskin.se
info@gnosjomaskin.se
MIG welder Telwin Technomig 225 Dual Synergic
Without VAT:
10500
In Stock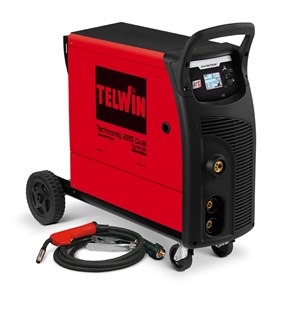 Article Code TW816057
Print
| | | | |
| --- | --- | --- | --- |
| Maker | Telwin | Weight | 30 kg |
| Model | Technomig 225 Dual Synergic | Size | 0,8 x 0,38 x 0,73 m |
| Ser. No | | Condition | 10/10 |
| Year | | Delivery Code | |
Tool accessories
Mig torche MT15 3M with BINZEL connection
earth cable
Specification
Microprocessor controlled MIG-MAG/FLUX/BRAZING/MMA/TIG DC-Lift inverter multiprocess welder. The perfect solution for a wide range of applications, from maintenance to installation and interventions in body shops, because of its flexibility and the different materials it can weld (steel, stainless steel, aluminium) or braze weld (galvanized sheet). The quick SYNERGIC regulation of the welding parameters, thanks to the ONE TOUCH LCD SYNERGY technology, makes this product easy to use. The operator can also intervene manually along the arc length, this adjustment means the weld seam can be modified according to the welder's style. The Made in Telwin ATC technology makes it easy to achieve excellent standards of welding on thin materials thanks to state-of-theart control of the arc. Lightweight and very compact, Technomig can be moved around easily in all intervention area.
Max DC current at 20%. 180 Amp

Connection: 230 V (1-phase)
Absorbed power at 60%: 2,2 kW
Fuse: 16 Amp
Current range: 20-220 A
Max DC current at 60%: 100 Amp
Max wire reel weight: 15 kg (0,6-1,0 mm)
MMA electrode Ø (MMA/TIG): 1,6-3,2 mm
Denna info är upprättad efter bästa förmåga - men är inte bindande i detalj. Samtliga priser är exklusive moms med reservation för pris-/valutaförändringar.