Lidsjövägen 1
3335 32 Gnosjö
Tel 0370-332360
Fax 0370-332369
www.gnosjomaskin.se
info@gnosjomaskin.se
Column drill press Strands S28 with quill feed
Without VAT:
37849
Not in stock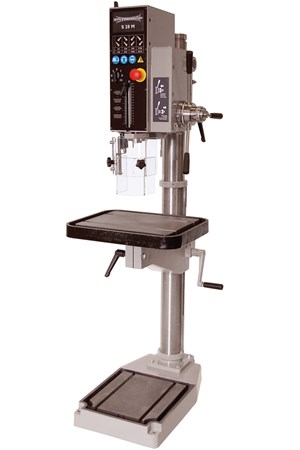 Article Code S2800M
Print
| | | | |
| --- | --- | --- | --- |
| Maker | Strands | Weight | 260 kg |
| Model | S28M | Size | |
| Ser. No | | Condition | 10/10 |
| Year | | Delivery Code | |
Tool accessories
Drill guard with micro switch is standard within the CE-area
Specification
STRANDS S28 has a drilling capacity of 30mm. Helical gears combined with steel gears against reinforced fibre gears in the main gear box ensures higher operation efficiency, a powerful drive mechanism and smooth operation. S28 is standard-equipped with a handreversing switch. Both the drill head and the table arm are adjustable 360° around the column and can be raised and lowered.
When the set drill depth is reached, the spindle will automatically return to the starting point. The feed gear box is provided with an automatic overload protection device, which intervenes, when the drill pressure is too high. The feed can also be interrupted manually.

STRANDS S28M: Automatic power feed to simplify the work for the operator. Hole in one!
Drilling capacity: Ø30 mm
Quill movement: 150 mm
Tapping capacity (steel/cast iron): M18/M22
Morse taper: MT3
Motor power (50 Hz): 0,9 kW/1,2 kW
Spindle speed (50 Hz): 75-3010 rpm (8 pcs)
Feed speed: 0,1-0,15-0,22-0,3 mm/r
Size of table: 500x400 mm
Denna info är upprättad efter bästa förmåga - men är inte bindande i detalj. Samtliga priser är exklusive moms med reservation för pris-/valutaförändringar.